Article and Panel Discussion - "Plagiarism Violates Moral Rights"
It gives me great pleasure to share the article "Plagiat Langgar Hak Moral" ("Plagiarism Violates Moral Rights") and video, where Ainul Azam bin Ahmad Khamal was guest panel for "Peranan Badan Hak Cipta di Malaysia dalam Industri Perbukuan" ("Role of Copyright Regulation in the Malaysian Publishing Industry")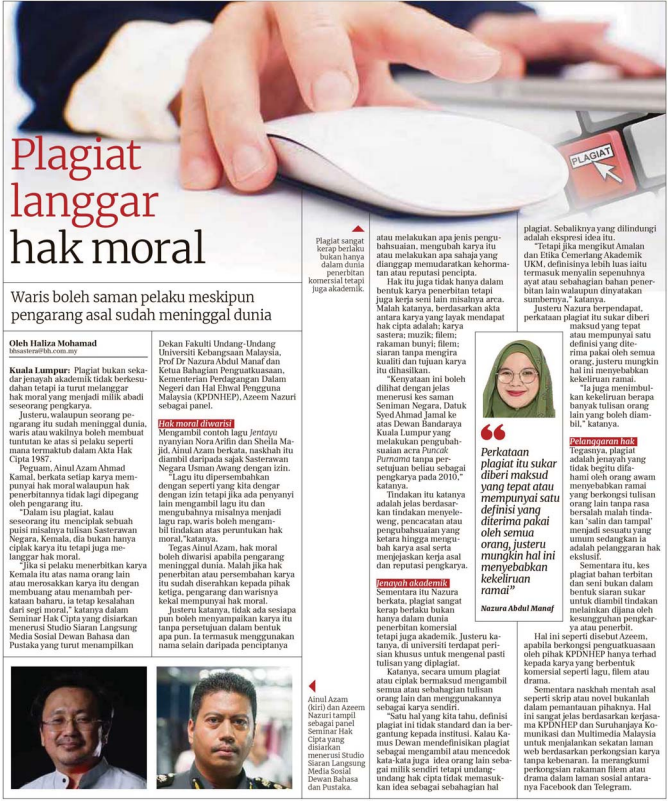 Full online article may read at page 46 of Berita Harian 5 May 2022 [http://digital.nstp.com.my/nst/pageflip/swipe/berberita/20220515berberita] (requires purchase).
Extract:
"Jika si pelaku menerbitkan karya Kemala itu atas nama orang lain atau merosakkan karya itu dengan membuang atau menambah perkataan baharu, ia tetap kesalahan dari segi moral."
The full panel discussion is available on DBPMalaysia YouTube channel:
For further clarification, please contact us at 03-2171 1484 or at mail@azamlaw.com.
---